Fast, Dependable Repair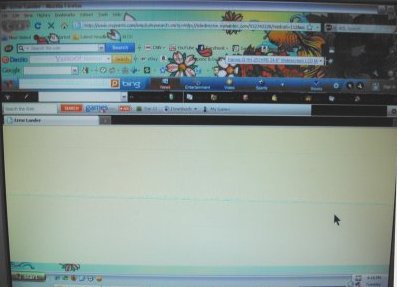 If your browser toolbar looks like this, you need a tune-up. Bring it in or we can tune it up using our online help tool. Either way it is inexpensive.
VCC repairs all brands of PC's, not just our own and we are fast. We are also especially careful with your data. Our extremely reasonable shop rates are posted on our home page and below. Most routine computer repairs can be completed on the same day. Bring it in before 10 AM and most of the time we can have you up and running in the afternoon. And we'll do it cheerfully. Oh sure, there are exceptions. We can get swamped and not get everything done. And, if you have an older computer, it is possible it will need parts we no longer stock that have to be ordered. We can usually get parts next day, so even then we are pretty fast.
For many kinds of repairs, we automatically backup your hard drive before starting. Most shops don't. If they destroy your data and have to reinstall Windows, they fall back on "We don't warrantee data, only repairs." No repair company can warrantee data. In some cases the data is destroyed beyond resurrection before the customer comes in the door. But no repair facility should use that as a short-cut so they don't have to be careful with data. Very few small businesses have completely adequate backups, and restores can be time-consuming even if adequate backups exist.
Beware Cheap Replacement Parts
We don't sell cheap parts. Not on our new computers and not on repairs. The most common hardware failures are power supplies, hard drives and RAM (memory). Because most people don't know who makes good quality replacement parts for these items, some computer repair shops use cheap replacement parts. On all the computers we build, we provide 3 year warranties. We do this because we only use premium parts -- and we use the same parts for repairs -- so you can be confident your computer will continue humming for a long time.
Labor Rates:
In shop minimum / diagnosis:
$ 40
Hourly in shop rate:
$ 80
Hourly remote online rate:
$ 80
Remote online minimum:
$ 40
Minimum on-site:
1 hour
Home on-site rate:
$ 100
Business on-site rate:
$ 120
Hourly webpage editing rate:
$ 100
Evening / Weekend rates: 1.5 times regular rate
XP Is Dead
If you bring in an XP computer for repair, expect to discuss whether it is worthwhile repairing it. XP is 13 years old and has been sunsetted by Microsoft. After April 8, 2014, it will no longer receive any security updates. At that point it will be open season for hackers. Sure, an antivirus can repair viruses that get in, but it can do nothing about the way they get in. That has been the job of the Microsoft Updates. Without updates, your antivirus will be playing whack-a-mole. Even before sunsetting, XP was far more vulnerable to malware than Windows 7 or 8. If your computer is 5 years old, does it make sense to spend much on repairs when the expected remaining life on the parts in the computer is so short? How many more months or years can you reasonably expect to get? And how much will the repairs cost you to get there?
Our base Windows 7 or 8 computer sells for $650 and comes with a full 3 year warranty. Does it make sense to spend a major portion of $650 to repair something that won't last nearly that long and is more prone to virus and spyware infestations? And, yes, unlike the big box stores, we still sell a lot of Windows 7 machines. Check us out.
Help Pages
Need Help?

Visit the CIPCUG user group website for the best self-help resource in the county.