History
Ventura County Computers was founded almost twenty years ago by Rick Smith. After spending an afternoon fixing his friend's Radio Shack Tandy 386 he was handed a $100.00 bill with the comment "Thank you for caring."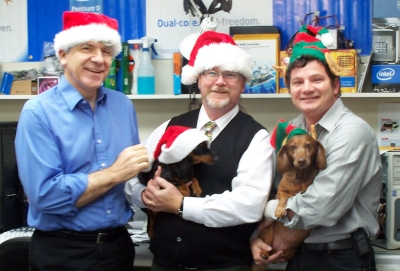 He was joined by partner Toby Scott in 1998. Toby's first computer was an Osborne 1, purchased in 1982. His second he built himself, with a soldering gun, two boxes of parts and endless enthusiasm. Ten thousand soldering joints later he was ready to tune his floppy drives -- with a volt meter.
VCC brings to you the talents of three people all with a passion for computers and all things related thereto. Rick is the hardware wizard; Toby is the software and networking specialist; while Head Technician, Michael Shalkey, brings a knowledge of multimedia and current technology trends. Together you get a team of local, experienced professions who not only have the knowledge to handle problems but also a passion to help people. And, as our motto suggests, we have a great time doing it, too. Most of the time.