Just What You Wanted
Ventura County Computers has been an Intel Gold Partner for over 5 of those years. What that means to you is our staff gets training and support directly from Intel Corp. We exclusively use Intel Brand Microprocessors in all our computer builds. We build Intel Branded Servers with guaranteed compatible components for our small business customers. As an Intel Gold Partner we can offer Overnight replacement of failed components in our servers under warranty from Intel Corp. We also offer Intel extended warranty contracts to offer the highest long term reliability for our customers.
Ventura county Computers not only build servers and workstation for our small business customers but also build personal computers for home and personal use. We specialize in migrating data and programs to your new personal computer to make the experience as "Turn Key" as possible. Getting a new computer can be a pleasant task, not something to be dreaded for all the potential problems that might arise. All our computers and assembled right here in Ventura and we offer a 3 year warranty on all the computers we build. No more having to call a foreign country to get service or support for your personal computer. Our local staff will provide you with local support and service. Our combined years of experience can offer a level of personal knowledge and support not offered elsewhere.
We at Ventura County Computers custom build computers specific to your needs. We build Gaming, Computer Aided Design, Graphics Design and custom form factors to meet any need. We have a wide array of styles and designs that you can't get from the big box stores.
Need a portable computer? We have access to hundreds of models of notebook, laptop, Ultrabooks and tablets. We will sit down with you and explain the differences between models and explain features to help fit you into the right laptop computer. Come in and see how enjoyable the experience can be.
Our highly experienced staff can answer all your questions in a relaxed and comfortable environment. Just stop on by or make an appointment and see how we can help you.
Extreme Computer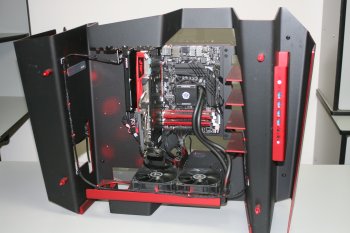 Want a statement computer? Take a look at this one. The S Frame case is made from one solid sheet of aluminum, bent into shape for the case. Both the CPU and video card are water-cooled. The drive is a RAID 0 of two fast Solid State Drives. It boots in about 5 seconds and shutdown is almost immediate.
At VCC we constantly play with what is possible. It keeps us on our toes and it's what we love. Whatever you need, we can either get it or build it for you.
Real Flight Simulator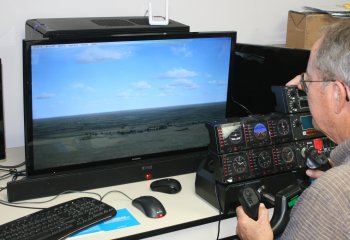 Most Flight Simulator software is for fooling around. This is almost the real deal. All the controls, the pedals, the yoke, the dials and switches, etc. are all designed to emulate a Cessna Citation. The client is working on his pilot's license. Not pictured are the other two monitors, giving an approximation of what you'd see looking out of the window of the Citation.
Whatever you want, we can build it for you.