Quick Repairs
Ventura County Computers will get your misbehaving computers fixed fast. Most repairs that come into the shop in the morning are out that afternoon. More than 75% of all repairs are out by next day. We say we close at 5 PM, but if we have a lot of work, we stay much later. By trying to get everything done before the end of the day, we provide much faster service than anyone we know of. Unlike several of our competitors, you won't need to pay an Expediting Fee for fast service. That's our norm.
We repair Mac's, too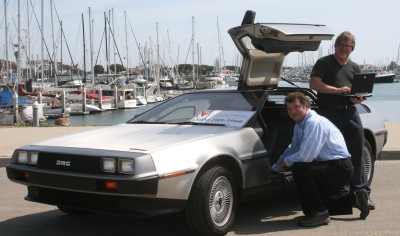 We support businesses and individuals in Ventura, Oxnard, Camarillo, Ojai and Moorpark. We put a high priority on data backup and recovery. Unlike many repair places, we (1) assume you don't have adequate backups, (2) will attempt to make a full copy of hard drives at the first sign of trouble and (3) treat the data on the hard drives as more important than the hard drives themselves. Should you have adequate backups, so much the better. But we don't count on it.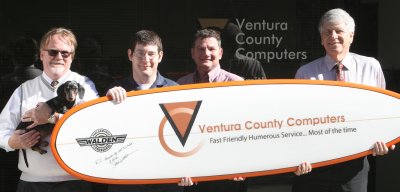 Ventura County Computers is an Intel Gold Technology Provider. What that means for you is we have the very best in quality and service for all PC's we build. Intel provides a three year warranty on all Intel parts we sell. Should an Intel part fail during the three year warrantee period, Intel will overnight replacement parts to us so you can get up and running quickly. This is a program for select, local dealers. It is not available to big box stores.
Ventura County Computers adds the three year warantee to all the parts in the computers we build. Along with free overnight replacement of any failed components we can get your server or workstations back up and running quickly if you have a problem. Amazingly, our computers with Intel processors, server-class hard drives, lifetime warrantee on memory and a full 3 year system warrantee cost less than many systems with one year warrantees manufactured with much lesser equipment.
Podcast
We publish a podcast in partnership with the Channel Islands PC Users Group (CIPCUG) every week, discussing questions that are posted on CIPCUG's Facebook page. Our latest podcasts are listed here.
(805)
289-3960
Ventura County Computers offers full remote support for our clients in Ventura County and elsewhere. If you are able to get to the Internet with your computer we can diagnose and fix problems immediately without you having to bring the unit in for service or wait for a technician to visit you. This support is provided in half-hour billing increments.
Download our remote support tool here.

Recent Articles
Crypto-Viruses are endemic. They lock up your data by encrypting it so you cannot use it. If you don't pay the ransom, you could spend a century trying to unlock it by guessing and never figure it out. All your data is at risk. Please read More Crypto-Viruses to understand the threat and then talk to us about solutions.
Mail Logon
View your Ventura County Computers email online at http://vcmail.net. Your email address is your user name but you'll need your password.
If you need help setting up your Ventura County Computers' email account visit our email configuration page.